The Woman's Activities Ministry is a welcoming group of women who are involved in most of the activities of the Parish and lend support to the other ministries. All women are welcome. If you are interested in joining this group (and all women of the parish are invited), contact Mary Flanagan at  womensactivities
Women's Activities "Women's Koffee Klatch" meets on the 4th Thursday of the month  alternates between morning hours in the Cry Room and evening hours at parishioner's homes. Pertinent information will be posted as received. If you have any items for the agenda, or questions about the group, please contact Mary Flanagan at: womensactivities@stfrancisyulee.org
The Regularly scheduled September 27th  meeting has been moved to Sunday, September 16th. More information will be posted as it becomes available. Check Upcoming Events for general information.
The May Koffee Klatch meeting was held at the home of Susie Bryant. It was a very informative & productive meeting. We are breaking for summer and our next meeting will be held in August or September. A women's retreat is being planned for late summer or early fall. If we have it in August it would be in place of the regular meeting. ALL women of the parish will be invited. Theme: "Be STILL, for I am …" How to be still in a busy world. Will keep you posted of details as they are finalized.
Women's Koffee Klutch Meeting – Mary Flanagan
---
Greeting Ladies!
The baton has been passed from Eileen to me. She left some mighty big shoes for me to fill! Thank you, Eileen, for leading & growing the Koffee Klutch group for the past 3 years.
A recap of the Jan 25th meeting:
* Eileen Shrubsall informed us that the Angel Tree project was very successful. About 198 individuals/families were served.
* Cathy McKnight informed us that we made $1100+ from the Fall Craft & Bake sale. Next year's craft projects are in the planning stage and we should get more info next meeting. The January bake sale made $213. The next bake sale will be in September.
The upcoming Appreciation Party (Feb 2). I think Cathy may need help with desserts & serving. Contact her (crmcknight47@yahoo.com) if you can help. I think there are sign-up sheets in the Narthex.
There will be a fish fry Ash Wednesday (Feb 14) 4:00 to 6:00.
The parish picnic will be held Sunday, March 18th, 1:00pm until 5:00/6:00pm. More details forthcoming.
Remember BINGO Monday, Feb 12th, North Hampton Golf Club.
* Diane Shipper brought us up to date on Project Isobel. She would like to expand participation to the parish & is working on ideas on the best ways to do that. She's considering fleece lap blankets for the young moms for Mother's Day. Stay tuned for further developments.
* Pat Janko told us that many pet stockings were distributed at Gracie's Kitchen during December. The patrons were very grateful. She is always in need of dog & cat food for the Pet Corner.
* Susan Spicer said there is a great need for men's socks, and socks & slipper during the winter months for Gracie's Kitchen "Soles for Soles."
* Jo-Ann Pimentel read us a letter & cards she received from the troops who receive Care Packages. They were very touching. She continues to collect for "her" troops. This month she is collecting baby wipes. She can always use Chap Stick (or similar products), toiletries, calendars & notepads.
As we continue into the new year, I will try to increase our numbers. We are part of the 20% who perform 80% of the volunteer work at St. Francis of Assisi. I would like to grow our membership so that there will be more ladies to share the work. Our meetings will alternate between morning & evening meetings. I spoke with Kathy, our new secretary and reserved the Quiet Room for our morning meetings. So that we don't compete with Thursday Morning Adoration, our meetings will start at 10:30 and run for about 2 hours. We will meet on the 4th Thursdays of the month. The morning dates are as follows:
February 22
April 26
June 28 (tentative)
September 27
October 25
On the alternate months, we'll have evening meetings, a place as yet to be determined. If Lori Gamble is willing to offer her home, as she has in the past, we can meet there. Or we can meet in my home. We can discuss this at next month's meeting. 7:00 works best for me but 6:30 is doable also. The dates for the evening meetings are:
March 22
May 26
October 25
We'll break for summer. Let's discuss if we should hold a meeting in June. If we decide that June 28th is too far into summer, then maybe we can move our first meeting after summer into August. Also, since November & December are such busy months, I was thinking of a combined meeting for those two month to be held in early December. Let's discuss next month.
I threw out the idea of having a recording secretary at our meetings so we could share the news with the membership and Angela Sukotsky stepped forward & offered to take notes. THANK YOU!!
I think that's all. If I've missed any important detail, please let me know. Also, please share any ideas you may have to grow/improve/conduct our meetings.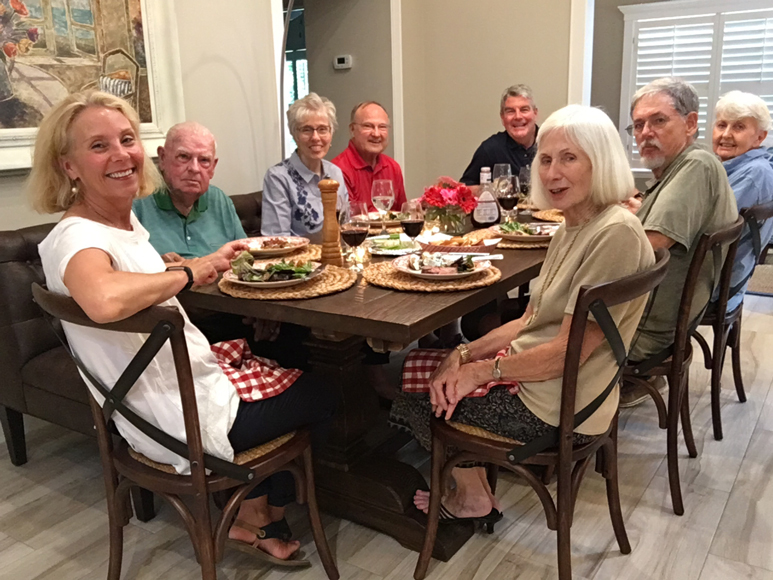 St. Francis of Assisi Dinner Club
---
Do you like good food? How about good conversation ranging from the more serious to hilarious and self-deprecating stories that will make you laugh? Do you want to disconnect from electronics and connect with people? Do you want to meet more parishioners and broaden your circle of friends? Then I have GREAT news!!
Join the St. Francis of Assisi Dinner Club! Delicious at home get-togethers that feature food, drink, music and engaging conversation!
Here's  how it works: Just commit to sharing good food once a month in your home. Don't like to cook? There's Publix, Winn Dixie and Harris Teeters. Groups are comprised of no more than 10 individual/5 couples. Why? Because most of us can accommodate 10 people for dinner. Not a couple? Partner with a friend or special someone.
The group rotates to a different home every month. The hosting couple/individuals select the main course to be served. All other couples/individuals bring the remainder of the meal – wine/beer & hor dourves , salad & bread, sides and dessert.
For More Information, contact: Mary & Mike Flanagan at:  904-432-8902  or email:  m_flangn@comcast.net
Our 2nd dinner club was hosted by Kathy & Guy Kneedler at their home. We enjoyed a fantastic meal of grilled steak & chicken, corn on the cob, potato salad & lemon cream pie for dessert! I've attached some photos taken during the evening. Our group is comprised of Kathy & Guy, Pat & Jack Deacon, Sue & Jess Simpson, Cathy McKnight & Paul Donovan, and Mary & Mike Flanagan.
For the flesh desires what is contrary to the Spirit, and the Spirit what is contrary to the flesh. They are in conflict with each other, so that you are not to do whatever you want.
Women's Group  April 21st and 22nd Mother's Day Craft and Jewelry Sale
Where there is charity and wisdom, there is neither fear nor ignorance.
— St. Francis of Assisi