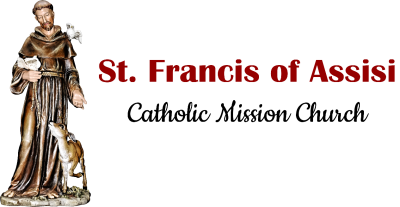 ---
February 24th – February 25th, 2018
---
SATURDAY, February 24th, 2018
4:00 p.m.  Mass is being offered for the Munson and Kelly Families
7:00 p.m.  Mass is being offered for the Repose of the soul of Juan Pena
---
SUNDAY, February 25th, 2017
8:00 a.m. Mass is being offered for the Repose of the Souls of Edward & Christina Galvin
9:30 a.m. Mass is being offered for The Parishioners of St. Francis
---
For those of you who are visiting or are here for the first time, we welcome you to St. Francis of Assisi Catholic Mission.  If interested in registering at St. Francis, please see an usher in the Narthex after mass for registration information.
---
Next weekend the Respect Life ministry will launch the annual Baby Bottle campaign. It will end the weekend of March 17-18th.
---
Don't forget the Lenten Mission offered at St. Patrick's Parish on March 7th at 7:00p.m. Details are in the bulletin.
---
Every Friday during Lent at 6:00 p.m. join us for Stations of the Cross. Please stay for soup and bread afterward.
---
 Sunday, March 18th, Save the date for the annual Parish Picnic. Watch for details in the bulletin.
---
Penance Service will be March 21st at 7:00 p.m. Please mark your calendars.
---
Please remember this years' confirmation candidates. Don't forget to look at their photos in the Narthex and remember these wonderful young people in your prayers.
---
Please now take a moment to greet your neighbors in the pew.
---
You will find more information and more announcements in the bulletin and on our website.
---
We ask you please to silence your cell phones.