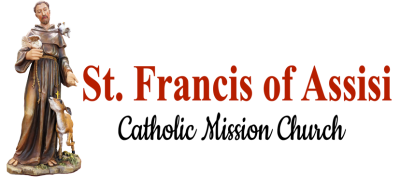 December 16th, 2017 – December 17th, 2017
---
SATURDAY, December 16th, 2017
4:00 p.m. Mass is being offered for the Repose of the soul of Richard Love/Jeff and Erica Smith
---
SUNDAY, December 17th, 2017
8:00 a.m. Mass is being offered for Repose of the soul of Respect Life
9:30 a.m. Mass is being offered for The Families of St. Francis
---
For those of you who are visiting or are here for the first time, we welcome you to St. Francis of Assisi Catholic Mission.  If interested in registering at St. Francis, please see an usher in the Narthex after mass for registration information.
---
Please join us every Sunday at 7:30 a.m. to say the full rosary before mass and pray for your families.
---
Please refer to this week's bulletin on the Christmas Mass Schedule so you can plan attendance accordingly.
---
 For November we helped the YUM Food Pantry serve 690 people. In addition, we donated $83 in cash and $100 in gift cards.
---
The Men's Club will be selling St. Damien Cross Key Chains after masses for the next few weekends. Cost is $10.00. Now that our Bishop has one, you cannot be without one.
---
There are Pastoral Council Vacancies and we are currently soliciting nominations for members of the parish community fill these two positions. A Nominations Box can be found in the Narthex through December 17th for parishioners to submit nominations.  Please consider recommending a fellow parishioner.
---
 Our Children's Choir rehearsals are every Sunday, except the first Sunday of the month, 10:30 – 11:00 a.m.
---
On January 7th from 8:00 am – 1:00 pm St. Francis of Assisi Catholic Mission will be holding a Blood Drive right outside the parking lot entrance. Be a donor and save a life.
---
For other important information, please read the bulletin or check our website and Facebook.
---
You will find more information and more announcements in the bulletin.
---
We ask you please to silence your cell phones
---
PLEASE OPEN THE COVER OF YOUR HYMNAL AND JOIN US AS WE PRAY THE PRAYER OF OUR CAMPAIGN