Priests and Deacons
Fr. Rafal was born in Poland a long time ago. He studied long and hard for many years to become a priest. Since he is from Europe, I am assuming he has seen all the cool things over there.  Getting a bio and a decent picture of him is like pulling hen's teeth, so I'm sort of  ad-libbing as I go. Father has a wry sense of humor and a great memory. He knows what a G-Force graphics card is… Hmm… I think there is a very interesting story there…  He likes chocolate chip cookies without much sugar (good luck making them that way!) All in all, he is enthusiastic and kind, and we are very fortunate that he was assigned to our parish.
Deacon Vincent Abrahams offers the following as an introduction of the first Permanent Deacon to St. Francis Mission Church.  Bishop Estevez appointed him here upon completing his duties at St. Patrick's Parish on Pentecost Sunday, 2016.
Ordained a permanent Deacon to the diocese of Rockville Centre, Long Island on May 22, 1999 by Bishop John McGann, he served at St. Patrick's Parish, Smithtown, New York where his wife, Valentina (nee Flynn, deceased 2005), and he raised their family Elizabeth Kuhn, John, and Dorothy.  In 2007, Deacon Vin moved to Florida where, upon the sale of his home in Smithtown,  he offered his services to Fr. Jose Kulathinal, CMI, at St. Patrick's Church on March 17, 2008.
Deacon Abraham's service at St. Patrick's included instruction for the RCIA, as well as the liturgical services to the parish and the sick and home bound.  The parish moved its location from Broward Road to Air Port Center Road under the guidance of the present Pastor, Fr. Christopher Ligouri.  With the appointment of a second Permanent Deacon David Berlanger to St. Patrick's, Bishop Estevez considered the need for my appointment to St. Francis which is conveniently nearer to my home in North Hampton.
Born in Jamaica, Queens, New York, he was raised by devout parents and grandparents in Presentation of the B. V. M. Parish where he received his elementary education.  He attended Bishop Loughlin High School, Queens College, Fordham University and NYU where he received his B. A., M. A. and supervisory certificates respectively.  For thirty-three (33) years Deacon taught public high school both in the City of New York and Commack, Long Island.  While at Commack High School, he coached track and field and cross country for twenty-five (25) years.  Thereafter, he became a track official for twelve (12) years.  An active runner, he was still running marathons at age 65.
In 1994 he retired from the classroom, and the next five (5) years completed studies in ministerial formation and diaconate studies until his ordination.  Throughout the years of their married life, his wife and he participated in spiritual formation groups:  Teams of Our Lady, Small Christian Communities, Cursilo Movement, Handicap Encounter Christ and more recently for myself at St. Patrick's "Christ Renews His Parish."
In many ways, coming to St. Francis is a real blessing and a return to his early roots.  His Aunt, Sister Antoinette Marie, OSF, his brother, Fr. Pius Francis Abrahams, OFM, his grandparents, his mother and his sister Marian were or are members of the Franciscan Orders.  He became a professed Secular Franciscan while studying in the Franciscan Seminary, Callicoon, NY in 1955.  Needless to say, St. Francis of Assisi is close to his heart.  How blessed he was to assist at Mass in Assisi at his gravesite in 2012.
Deacon Vincent Abrahams is happy to be among us as our Permanent Deacon – to share in our ministry and for us to share in his.
Parish Office Hours
Monday:  1 pm – 3 pm
Tuesday – Friday:  9 am – 12pm
Saturday and Sunday: Closed
Phone: (904) 849 – 1256
FAX: (904) 849 – 7622
Parish Staff
Maureen and her husband, Scott, have been in our area over a year. They moved here after living in Nashville, Tennessee for a few years, and from Indiana before that. Welcome and thank you for being part of St. Francis and accepting this important job.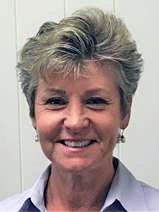 Councils
Robert Bell was born and raised in Pittsburgh, PA. where he attended the U. S. Naval Academy.
He graduated in the great class of 1964 with a BS in Naval Science; and later earned his MS in Personnel Administration from George Washington University. His 26 year naval career was in Surface Warfare where he served in a number of Guided Missile Destroyers and other associated sea and shore assignments including a tour in Vietnam in Swift Boats. Bob retired from the Navy in 1990 having achieved the rank of Captain and serving in Command at Sea.
Following his Navy Career, Bob joined Northrop Grumman Corp. where he used his expertise in Personnel Management, Naval Systems Engineering, Operational Test and Evaluation, Military Tactics, and Training and Education to support a number of Navy and Joint military commands. Bob served as Manager of the Northrop Grumman Virginia Beach, Va. Warfare Systems Engineering Department until his retirement in 2011.
Bob and his wife Betty, also a Navy Veteran, relocated to Fernandina Beach in March of 2011; they have two children and two grandchildren.
PERSONAL PROFILE
Innovative, results-oriented and performance-driven executive with broad experience in management, administration, engineering and manufacturing systems.  Adept at systems improvement and refinement and adjusting to changes in the business environment.   An action-oriented person with a proven record of success.  Works well under pressure and adjusts to change easily by finding new ways to meet difficult goals and objectives.  Proven leader in planning, organizing and implementing ethical business solutions.
---
ACCOMPLISHMENTS
Provided, as needed and/or requested by Deloitte Consulting, research and reports for Capital Projects and/or Leasehold Improvements completed in Wachovia properties for the period 1999-2009.  Over 25 individual reports were prepared and submitted to Deloitte, with final project comments of "excellent cooperation and support furnished" by the Deloitte professionals involved.  Filed, on behalf of Wachovia, over 500 "Annual Filing of Income and Expense Statements for Real Property" from January through portfolio conversion in May 2010.
Successfully tracked and reported on Goodwill expenses for Corporate Properties exited in 2009 and 2010 (864 property locations, estimated Sub-Lease Loss (SLL) & Decommissioning Costs of $482+ million).   For the 427 properties with SLL/Vacant Space Accrual reserves, was able to account for 425 of these properties, with only 2 International locations not in the SAP system omitted (only $400K estimated impact).
Led the $8 million annual expense budget Real Estate Services department's overall efforts in the areas of Operational Processes and Reporting, Operational Risk Management, Technology Applications, Vendor Management, Energy and Environmental Management, Cross-Regional Initiatives, and other Back Office Support Systems.
Successfully off-shored the major portion of Lease Administration duties for Corporate Real Estate (CRE), resulting in an annual $1 million expense reduction.
As Leader of the CRE Procure-to-Pay (P2P) Pilot team, assembled and presented the Business case for the P2P efforts and blended those with simultaneous efforts to select and install an Integrated Workplace Management System (IWMS) to replace the current CRE legacy proprietary application which supports and tracks all property information and property and project transactions/expenditures for CRE.
Sponsored the efforts required and secured funding for CRE software applications to enhance Workplace Utilization and specific employee space subscription, and to further integrate with Corporate Information Technology and Human Resources applications.
Negotiated Real Estate Services Outsourcing Agreements, both new and renewals, for the reallocation of $35 million annual direct spend with external property management firms for property and project management.  Three firms were new Suppliers to Wachovia, requiring Agreement negotiation, Supplier onboarding, and transition management responsibilities.
Led the successful CRE reorganization design/centralization of Operations, the integration and information systems merge/replacement for the Southtrust, Palmer & Cay, Westcorp, Amnet, and Golden West acquisitions, and for the continuing compliance management and reporting systems for Sarbanes-Oxley and OCC compliance.
Led the effort to establish a Compliance Risk Matrix for Corporate Real Estate (CRE), wrote the initial CRE Compliance Management Program, and successfully conducted quarterly Compliance Risk Assessments for CRE.  Led the CRE efforts to overhaul the previous Business Continuity Site Allocation Process tool, migrating from a single PC-based application to a web-based reporting portal.
Successfully led the efforts to source the delivery of product design, fabrication and installation services for a $125 million Signage Conversion Project.  This effort encompassed internal and external signage products and merchandising signage fixtures for 2300 Financial Centers, internal and external signage products for high- and mid-rise office buildings, and ATM Surrounds and Topper Products for 4500 ATM installations.
Directed the efforts for an Integrated Energy Management Plan that delivered $5 million in total savings over calendar years 2007-2009 through Outsourced Bill Audit, Presentment and Payment; Energy Supply and Demand Management Programs; and executed Awareness and Education efforts.
Successfully concluded a formal Request for Proposal initiative that identified and selected Commercial Moving Services firms for each Wachovia CRE region, resulting in the initial establishment of uniform Terms and Conditions for office and industrial moving services, as well as fixed pricing for these services
Delivered the SAPR/3 system for the Moral, Welfare and Recreation Division of the US Navy Personnel Command in less than 9 months for 6 locations, beating both project schedule and budget (35 person team).  As Client Manager, responsible for all aspects of the relationship between Sierra and MWR
Interviewed and selected the General Contracting Firm to renovate a former Environmental Testing Facility to become the company's Enterprise Services Center.  As Project Manager, built out the facility in a 4-month time period. The scope of work entailed all data center facilities from emergency power generator system, raised flooring and cooling to environmental controls, security, and telecommunications network infrastructure.
Successfully led the selection and implementation of SAP's R/3 ERP package for company-wide use.  SAP's FI, CO, AM, MM, SD, and Legal Consolidation modules were implemented at 7 locations (2 international) in two languages and four currencies. The initial sites went live September 1994, 8 months after configuration commencement.
Organized and established an engineering project team to propose and implement a process to reduce odor emissions emanating from pulp mill effluent.  The resulting $13 million project was delivered at a rush pace within 10 months in the face of regulatory sanctions.
---
-Member, AIChE and Tau Beta Pi
-Volunteer Standard Bearer, Wachovia Championship & McGladrey Classic
-Business Area Solicitor, Charlotte Arts & Science Council
-Chair, Sponsorship Committee, ACS Relay for Life
-Knight Commander, Equestrian Order of the Holy Sepulchre of Jerusalem
-Christian Brothers University- Adjunct Professor
-Susan G. Komen Race for the Cure -Finish Line Captain
-United Way of West Tennessee – Team Captain – Major Firms Division
-St. Jude Children's Hospital, Area campaign Coordinator
-Bishop's Appeal – Co-chairman, Diocese of Cincinnati
Wayne Munson, a native New Yorker, is a graduate of Auburn University (BA-1974), and Webster University (MA-1982).   He served over twenty-one years in the United States Army in command and staff assignments, retiring as a Lieutenant Colonel.  After a business career that including executive positions in marketing, research, and sales management for banks and marketing companies, he worked in fundraising and development at the US Military Academy at West Point, at Embry-Riddle Aeronautical University and at Florida State University.
Wayne has served on teams in Cursillo, Teens Encounter Christ (TEC), Residents Encounter Christ/prison ministry (REC) and in parish music ministries, as well as service on several parochial councils.
Wayne and spouse Kathy Munson moved to Fernandina Beach in 2013. They have three children and nine grandchildren.