Women's Activities
We are a welcoming group of women, dedicated to supporting and inspiring each other, while being of service to our church and the surrounding community.
---
---
We meet the 3rd Thursday of each month for a social activity, which also includes involvement in charitable endeavors.  Many of the volunteers for our various ministries (Charity, Events and Right to Life) come from our women's group.
These ministries include, the Bereavement Group, Prayer Shawl, Project Isobel/The Nest, Bake Sales, Crafting, Gracie's Kitchen, the Angel Tree and Soup and Bread after Stations of the Cross during Lent.
This is a great way to meet new friends and enjoy various social activities, while sharing your time and talents with others.  Please come join us.  All women of the parish are welcome.
---
I will refresh the weary and satisfy the faint.

The Angel Tree ladies, Eileen Shrubsall and Betty Bell, delivered close to 200 Angel Tree gifts to needy members of our community this week. A special thanks to all those parishioners who were so generous with their giving to the less fortunate.
Where there is charity and wisdom, there is neither fear nor ignorance.
— St. Francis of Assisi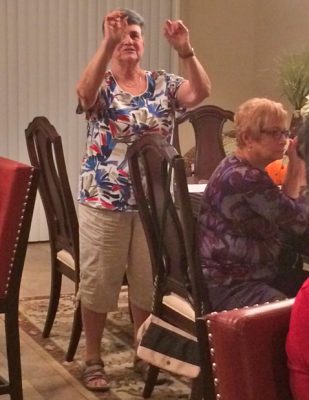 ITEMS FOR SOLDIERS
Getting calendars In the mail, see some all occasion cards, buy a twin inexpensive blanket etc, hand or baby wipes…put them aside for packages that are sent to our soldiers off in foreign lands. Such a small thing can bring the knowledge that we care, we appreciate…Put them aside, soon we will tell you how to get them to our parishioner, Jo-Ann Pimentel,  the wonderful gal for whom this is a special calling.