Respect Life
For more information on Respect Life, contact:
Beverly Crowley or Bunny Smithson at: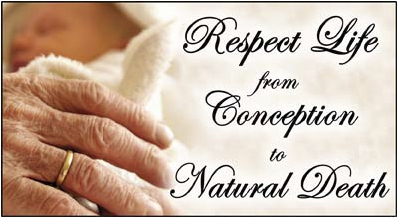 The Respect Life Ministry, through prayer, education, witness and advocacy, promotes respect and protection for all human life from conception to natural death. The Respect Life Committee meets the last Thursday of each month at 4:30 pm in the Cry Room.
Be completely humble and gentle; be patient, bearing with one another in love.
We create homemade "comfort" items which are provided to members of our parish who are home bound or residing in assisted living facilities.  Everyone is welcome and instruction will be provided  for beginners. We meet in the cry room after Mass every Friday from 9:30-11:30 am. For further information, please contact Frances McKee at: mckee1902@comcast.net
ELDERLY VISITS
---
The Respect Life Ministry visits and spends time with the elderly in our parish who are home bound or reside in assisted living facilities to pray the Rosary, read the Bible or just talk and listen. If you know of anyone who would welcome such a visit, please contact Beverly Crowley or Bunny Smithson at:
NEWS FROM THE DIOCESE 
---
The Bishop has created the Office of Human Life and Dignity to advocate for the populations and address the issues that traditionally come under the banner of Respect Life. The director of this new office is May Oliver, formerly the Respect Life Coordinator for the Cathedral Basilica of St. Augustine and a Pregnancy Counselor for Catholic Charities, Caring Choices Program.
THE RIGHT TO LIFE
---
T-shirts and auto magnets may be ordered or picked up by calling Don Douglas at 904-225-2566 or leaving a message for him in the church office. We are trying to wind up our tee shirt campaign so if you ordered a respect life tee shirt, please contact Don Douglas at:  jddoug707@gmail.com or inquire at the office.