Respect Life
For more information on Respect Life, contact:
Beverly Crowley or Bunny Smithson at:
The Respect Life Ministry, through prayer, education, witness and advocacy, promotes respect and protection for all human life from conception to natural death. The Respect Life Committee meets the last Thursday of each month at 4:30 pm in the Cry Room.
The Baby Bottle Campaign was a great success thanks to everyone who so generously participated. We collected a total of $4,416.39 which will be distributed to three local pregnancy centers that provide non-abortion pregnancy services.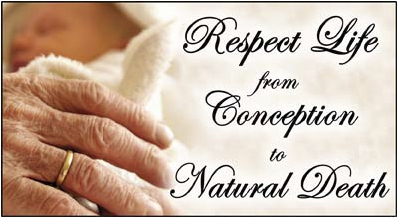 Living in the Image and Likeness of God: Human Dignity and Divine Designs
---
In accordance with Papal teachings, the bishops of Alaska have released a pastoral letter affirming that all Catholic moral teachings stem from the fundamental belief in the dignity and sanctity of every human life from which flows the Church's emphasis on the importance of upholding marriage as between one man and one woman, the rational behind robust religious freedom, the role of chastity in human relationships and the Church's teaching on sexual orientation and gender identity. The growing number of social issues today need to be addressed from a faith perspective and require more than a sound byte to adequately outline the theological principles which underpin these beliefs. At the heart of each issue is the need for a proper understanding of the human person as created in the image and likeness of God and is why every human life is sacred, has inherent dignity and why the sanctity of every life must be upheld from conception to natural death. God's design for the human family and Truth as revealed by Jesus Christ, is something to be discovered by reason – not defined by choice.
The letter may be read in English and Spanish at: www.catholicanchor.org/pastoralletter
http://www.catholicanchor.org/alaska-news/alaska-bishops-highlight-dignity-sanctity-human-life-key-moral-teachings/
Carry each other's burdens, and in this way you will fulfill the law of Christ.
ELDERLY VISITS
---
The Respect Life Ministry visits and spends time with the elderly in our parish who are home bound or reside in assisted living facilities to pray the Rosary, read the Bible or just talk and listen. If you know of anyone who would welcome such a visit, please contact Beverly Crowley or Bunny Smithson at:
NEWS FROM THE DIOCESE 
---
The Bishop has created the Office of Human Life and Dignity to advocate for the populations and address the issues that traditionally come under the banner of Respect Life. The director of this new office is May Oliver, formerly the Respect Life Coordinator for the Cathedral Basilica of St. Augustine and a Pregnancy Counselor for Catholic Charities, Caring Choices Program.
St. Gianna Beretta Molla (1922-1962)
Feast Day: April 28th Patron of Mothers, Physicians
and Unborn Children Canonized: May 16, 2004 by Pope John Paul II
Saint Gianna was a pediatrician and surgeon. During her fourth pregnancy, Gianna developed a condition which doctors said would require an abortion to save her life. She refused and seven days after giving birth to a healthy baby girl, she died. At her canonization Mass, Pope John Paul II called Gianna a "significant messenger of divine love". St. Gianna through your intercession we pray that the world be freed from the culture of death which destroys the life of God's most vulnerable people!

We create homemade "comfort" items which are provided to members of our parish who are home bound or residing in assisted living facilities.  Everyone is welcome and instruction will be provided  for beginners. We meet in the cry room after Mass every Friday from 9:30-11:30 am. For further information, please contact Frances McKee at: mckee1902@comcast.net
THE RIGHT TO LIFE
---
T-shirts and auto magnets may be ordered or picked up by calling Don Douglas at 904-225-2566 or leaving a message for him in the church office. We are trying to wind up our tee shirt campaign so if you ordered a respect life tee shirt, please contact Don Douglas at:  jddoug707@gmail.com or inquire at the office.
There were 5400 abortions in Jacksonville in 2017. Let's pray the Novena to the Holy Innocents to end abortion in 2018.
---
Pray this novena for 9 consecutive days any time of the year.
Heavenly Father,
"By their wordless profession of faith in your Son, the holy innocents were crowned with life at his birth." Knowing how precious they are to you and how similar they are to the millions of innocent lives lost through abortion, we call on them to join in our prayer:
1. That all our elected leaders, legislators, and judges may come to acknowledge the humanity of every child in the womb and enact laws and policies to defend them, we pray: Lord, hear our prayer.
2. That everyone throughout the world may be given the light to see beyond all doubt the uniqueness and full humanity of every child who has ever been conceived, we pray: Lord, hear our prayer.
For these intentions and in union with the Holy Innocents, we pray as the Lord Jesus taught us:
"Our Father, who art in heaven…