Music and Worship Arts
For information concerning the Music Ministry, contact Beth Jurovcik at:  music@stfrancis.org  
To become involved in the Music Ministry please download, fill out, and return the Music Ministry Application to Beth. You can send it to her an an email attachment: music@stfrancisyulee.org
REHEARSALS – PARISH HALL 
---
THURSDAY:
Music:  4:00 pm – 5:00 pm 
Instrumental: 5:30 pm – 6:00 pm 
Choir: 6:00 pm – 7:30 pm 
---
SUNDAY (except 1st Sun. of the month): 
Children's Choir: 10:35 am – 11:05 am 
CHILDREN'S CHOIR
---
Our children's choir sang 2 pieces on Feb 11 at the 9:30am mass – O Be Careful & This is the Day. They will sing again on March 4th at the 9:30am mass. If your child is between the ages of 5 through 7th grade and would like to join our choir, come rehearse with us on Sundays at 10:30am. All are welcome!
Easter Sunday – Children's Choir (Older Group)
Easter Sunday – Children's Choir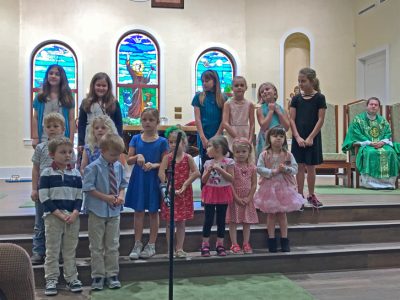 ADULT CHOIR: "AMERICA THE BEAUTIFUL"
VETERAN'S DAY 2017