Our parish has a variety of opportunities for those wishing to share their time, talents and treasures with those less fortunate. Volunteering with one of our charity ministries is a way to be grateful for our blessings and improve the community in which we are so fortunate to live. Please come join us.
For more information concerning Charities, contact
Pat Janco at: charities@ stfrancisyulee.org

St. Francis of Assisi enjoys its partnership with the Yulee United Methodist Church food bank. The food and monetary donations we provide, help serve 75 needy families in our area. Our volunteer team collects canned and boxed foods, which they deliver each Wednesday to the YUMC food bank.
In February, the food pantry served over 48 families on each Wednesday of the month.  Every dollar donated can purchase up to $12.00 worth of fresh food from the Feeding Northeast Florida Food Bank.  Pastor Charlie and the Food Pantry Team are so grateful for our help and for the generous food and money donations made by St. Francis Parishioners! They could not meet the needs of those they serve without our help and partnership!   The Men's Club had started delivering food donations on Mondays.
A total of 8,555 individuals were served in 2017. In January 2018, 137 individuals were served per week.
Volunteers Helping Fill YUM Food Bank
Heart2Heart..
….sends greeting cards to those who are ill, recovering from surgery or needing encouragement. This ministry mailed thirteen cards in June to those ill/recovering or needing encouragement. If you know of someone who would benefit from a card, please email charities@stfrancisyulee.org with their name, address (if you know it), and type of card that would be appropriate.
Thank you Angela Sukotsky for following up with those who need our support.
The church Blood Drive is held every 8 weeks. One person donating saves 3 lives. Appointments can be scheduled the weekend before the drive and walk-ins are always welcome. The January Blood drive collected 15 units of blood – giving the gift of life!
The next blood drive will be in March 2018. The Blood Mobile will be parked in the church parking lot.
It is in Giving That We Receive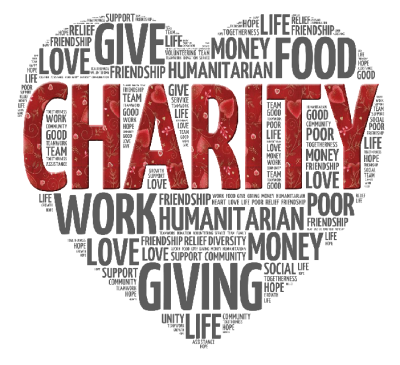 We are also part of Gracie's Kitchen, an interfaith dinner network, which provides hot meals to single mothers, senior citizens, military veterans, the disabled and low wage workers. Our St. Francis team cleans, cooks and serves meals to over 200 guests on the 2nd and 3rd Thursday of each month from 5pm.-7pm. At Gracie's Kitchen, we also provide supplemental pet foods for dogs and cats. The St. Francis Pet Corner welcomes any and all donations to our pet food pantry. We gladly accept donations for these additional charities in the donation bins located in our Narthex.  The foods are distributed only on the nights that St. Francis volunteers serve dinners at Gracie's Kitchen. In February, Gracie's Kitchen was able to serve 344 dinners to senior citizens, veterans and the working poor of our community. In addition, we were able to distribute enough pet food to help supplement the feeding of 32 pets. Thanks to your generous donations we are also able to hand out pet stockings for the Christmas holiday and offer socks of all sizes and genders to those in need.
Thanks to our St. Francis parishioners donations, 23 families with pets were provided with Christmas stockings stuffed with pet foods, chews, treats, and toys for 23 cats and 18 dogs. These families were very appreciative and expressed much gratitude on behalf of their furry family members. Also, socks were available for guests in all sizes and genders. Thank you St. Francis folks for your generosity!
"THANKS" To all St. Francis volunteers at Gracie's Kitchen.
---
In 2017, Gracie's served 33,332 dinners. We are also grateful for the donations of pet food, socks and flip flops, which are always in high demand. Our church supports this ministry both monetarily and with dedicated volunteers.
The St. Francis team cooking Christmas Dinner for the folks of Gracie's Kitchen on Dec. 14th. Dinner included hot dogs, fried chicken, chicken tenders, salads, mashed potatoes and gravy, Christmas cookies, ice cream sundaes. Around 200 dinners were provided.