Respect Life
For more information on Respect Life, contact:
Beverly Crowley or Bunny Smithson at:
The Respect Life Ministry, through prayer, education, witness and advocacy, promotes respect and protection for all human life from conception to natural death. The Respect Life Committee meets the last Thursday of each month at 4:30 pm in the Cry Room.
June 23rd : The Respect Life Ministry invites all parishioners to join them as they pray the Rosary on the steps of the historic courthouse in Fernandina next Saturday, June 23rd at 12 o'clock to ask for God's protection and preservation of marriage – the life-long faithful partnership between a man and a woman for their good and the continuation of humanity. This is part of a nationally coordinated effort of the America Needs Fatima campaign where it is expected that 1,000 Rosary rallies will take place beginning at noon Saturday across the United States.
Please join members of the St. Francis of Assisi Respect Life Ministry as they pray the Rosary at Planned Parenthood, Powers Avenue, Jacksonville on Fridays from 10:00 a.m. – 11:45 a.m. Meet after the 9 a.m. Mass in the parking lot to carpool. For more information contact Beverly Crowley at respectlife@stfrancisyulee.org
The Baby Bottle Campaign was a great success thanks to everyone who so generously participated. We collected a total of $4,416.39 which will be distributed to three local pregnancy centers that provide non-abortion pregnancy services.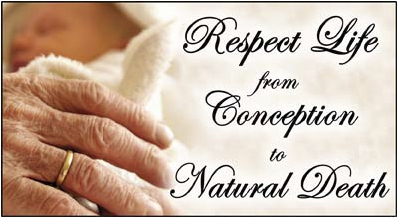 Living in the Image and Likeness of God: Human Dignity and Divine Designs
---
In accordance with Papal teachings, the bishops of Alaska have released a pastoral letter affirming that all Catholic moral teachings stem from the fundamental belief in the dignity and sanctity of every human life from which flows the Church's emphasis on the importance of upholding marriage as between one man and one woman, the rational behind robust religious freedom, the role of chastity in human relationships and the Church's teaching on sexual orientation and gender identity. The growing number of social issues today need to be addressed from a faith perspective and require more than a sound byte to adequately outline the theological principles which underpin these beliefs. At the heart of each issue is the need for a proper understanding of the human person as created in the image and likeness of God and is why every human life is sacred, has inherent dignity and why the sanctity of every life must be upheld from conception to natural death. God's design for the human family and Truth as revealed by Jesus Christ, is something to be discovered by reason – not defined by choice.
The letter may be read in English and Spanish at: www.catholicanchor.org/pastoralletter
http://www.catholicanchor.org/alaska-news/alaska-bishops-highlight-dignity-sanctity-human-life-key-moral-teachings/

We create homemade "comfort" items which are provided to members of our parish who are home bound or residing in assisted living facilities.  Everyone is welcome and instruction will be provided  for beginners. We meet in the cry room after Mass every Friday from 9:30-11:30 am. For further information, please contact Frances McKee at: mckee1902@comcast.net
Deacon Brian blessing the beautiful blankets and shawls knitted and crocheted by the Respect Life ladies.
ELDERLY VISITS
---
The Respect Life Ministry visits and spends time with the elderly in our parish who are home bound or reside in assisted living facilities to pray the Rosary, read the Bible or just talk and listen. If you know of anyone who would welcome such a visit, please contact Beverly Crowley or Bunny Smithson at:
NEWS FROM THE DIOCESE 
---
The Bishop has created the Office of Human Life and Dignity to advocate for the populations and address the issues that traditionally come under the banner of Respect Life. The director of this new office is May Oliver, formerly the Respect Life Coordinator for the Cathedral Basilica of St. Augustine and a Pregnancy Counselor for Catholic Charities, Caring Choices Program.


Project Isobel  for St. Gerard's  was started five years ago in honor of a parishioner's grandmother.  St. Gerard's is a non-profit maternity home and Christian high school in St. Augustine for young, unwed girls who have made the decision to have their babies. The facility makes sure they receive the proper medical attention they need as well as making sure they attend classes on campus and receive their high school diploma. 
This year the  Women's Activities made gift bags for the girls for Mother's Day. Some of the items included are socks, nail polish, shampoo, etc. – nice things to make these ladies feel special for Mother's Day.  A separate gift of hand crafted baby blanket made by the members of our St. Francis Respect Life Needlework group were also given to the girls. Earlier, the women worked on creating unique flip flops for the girls. Many very generous people have donated items for the girls and their babies.
Our Project Isobel for 2018 was completed on Friday, May 11th, when  a group from St. Francis took 15 Mother's Day Gift bags, 15 Baby Gift bags and a check for $3000 from the Baby Bottle Campaign to the St. Gerard's campus. Thank you all for your help in providing a place for these ladies and their babies.
A Message from St. Gerard's Campus:
---
A Message from St. Gerard's Campus: St. Francis of Assisi Catholic Mission Parish sponsors Project Isobel through its Respect Life Committee each year. The goal of Project Isobel is to offer the young mothers at St.  Gerard's a short time of pampering just for themselves. It all happens on the Friday before Mother's Day each year and it deeply touches the hearts of all who take the pilgrimage all the way out to St. Augustine. For those who support this event with small items and gift cards we thank you. This past week a very special thank you message came from Miss Carol (Caroline Wolff ),the charismatic founder and director of St. Gerard's. I share this with you now. Project Isobel delivers its gifts two weeks before these young women, some as young as 14 years of age, graduate from the high school program at St. Gerard's. The graduation is a full throated celebration of success and life. But, this year, that graduation was in financial peril. The Director, staff and young mothers decided to pool all of the gift certificates from St.Francis and lo and behold, they had enough to make this graduation ceremony take place!! Over 300 family and friends gathered to watch 14 young women with their babies in their arms receive their diplomas and then throw their caps in the air. For many families this was the first high school graduation they had ever celebrated. Culminating this ceremony: a young father went up on the stage and proposed to his lady and their child!
These young women were leaving the safe sanctuary that had sheltered them to return to often perilous situations. They were leaving knowing they were loved by a small mission Parish way out in a corner of Yulee. A small mission Parish that reached out from their corner all the way to an unassuming cluster of buildings called St. Gerard's in a corner of St. Augustine whose soul indeed Magnifies the Lord.
This is the fifth year of Project Isobel. It is my honor to have founded it five years ago in the name of my Grandmother as a tribute to her own courage for Life. I am deeply touched as others come forward to do the work now. Next year, Project Isobel will go parish wide and offer everyone the chance to participate in this moment of Grace. We here at St. Francis have a big wide open heart. Naysayers for Life often criticize those who work to protect LIFE saying there is no real reaching out but rather only noise. We know that not to be true, we at St. Francis, we of the big, wide open heart.
God's blessing for the support of so many including those outside of St. Francis whose generosity has been there year after year. We thank, also, those who gave to the Baby Bottle Campaign which gifted St. Gerard's generously this year.
---
Sandy Pineault- Founder of Project Isobel
Diane Shipper – 2018 Chair for Project Isobel
Beverly Crowley and Bunny Smithson- 2018 Chairs of the Respect Life Ministry at St. Francis Mission Parish.
---
This story of practical love for life was presented last week at the annual meeting of the Pontifical Academy for Life in the Vatican to encourage members and the Holy See in their effort to make life welcomed, nurtured and protected always and everywhere and by everyone.

Many of you know that Project Isobel is near and dear to me and is named for my grandmother. It benefits St.Gerard's Campus each year for Mother's Day. This is its fifth year and it is sponsored by the Respect Life Ministry at our parish: St. Francis of Assisi Mission Church in Yulee, Florida. Each year we gift the group of brave young mothers at St. Gerard's with pampering gifts just for them. We meet them and often their babies in a grace-filled moment. St. Gerard's is in St. Augustine and is unique in that it provides a Christian high school as well as shepherding these young women through their pregnancies. This year it turns out that with the gift cards we included we were able to sponsor their very special high school graduation. Pictured here are Jim Crowley,a member of the Pontifical Academy for Life at the Vatican (and a member of our Parish and husband of our Parish Respect Life Committee Co-Chair Beverly Crowley) ) presenting a summary of a letter which details Project Isobel and its work. Jim said that the Commission really likes hearing about grass roots endeavors for Life such as St.Gerard's and Project Isobel. For me, it was the grace that this little Parish project could reach all the way to the hallowed halls of the Vatican. Here is Pope Francis blessing that letter.
Sandra Souza Pineaut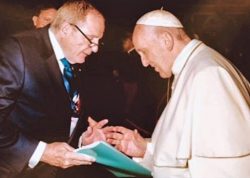 St. Gianna Beretta Molla (1922-1962)
Feast Day: April 28th Patron of Mothers, Physicians
and Unborn Children Canonized: May 16, 2004 by Pope John Paul II
Saint Gianna was a pediatrician and surgeon. During her fourth pregnancy, Gianna developed a condition which doctors said would require an abortion to save her life. She refused and seven days after giving birth to a healthy baby girl, she died. At her canonization Mass, Pope John Paul II called Gianna a "significant messenger of divine love". St. Gianna through your intercession we pray that the world be freed from the culture of death which destroys the life of God's most vulnerable people!
There were 5400 abortions in Jacksonville in 2017. Let's pray the Novena to the Holy Innocents to end abortion in 2018.
---
Pray this novena for 9 consecutive days any time of the year.
Heavenly Father,
"By their wordless profession of faith in your Son, the holy innocents were crowned with life at his birth." Knowing how precious they are to you and how similar they are to the millions of innocent lives lost through abortion, we call on them to join in our prayer:
1. That all our elected leaders, legislators, and judges may come to acknowledge the humanity of every child in the womb and enact laws and policies to defend them, we pray: Lord, hear our prayer.
2. That everyone throughout the world may be given the light to see beyond all doubt the uniqueness and full humanity of every child who has ever been conceived, we pray: Lord, hear our prayer.
For these intentions and in union with the Holy Innocents, we pray as the Lord Jesus taught us:
"Our Father, who art in heaven…
My soul yearns for you in the night; in the morning my spirit longs for you. When your judgments come upon the earth, the people of the world learn righteousness.