For More Information on Men's Activities,Contact: Bob Bell at: 
Monthly Meetings are on the 1st Thursday of Each Month at 7:00 pm. There are no Meetings in July or August.
The mission of the St. Francis of Assisi Men's Club (SFAMC) is to provide a means for men of the parish who desire a greater involvement in our Church community in a social and fraternal atmosphere.  In support of our mission, our objectives are:
---
a. To perpetuate the spirit of "giving back" to our church, to the community and to our parish family.
b. To foster and grow our SFAMC as a place for fellowship, friendship, spiritual growth, service and recreation among Catholic men of our parish, now and into the future.
c. To establish physical, spiritual and monetary support to individuals, organizations and groups identified by the SFAMC members that is in keeping with our mission and ideals.
d. Sponsor and assist with Parish social functions to promote a sense of community within the Parish.
e. To set a positive example to our Parish and community by supporting our belief in the doctrines of the Catholic Church.
f. To serve the religious, social, and civic dimensions of the community through support of our youth, other parish ministries, and the needs of the parish and local community in general.
Congratulations to the recently elected Leadership team for the St. Francis Men's Club for the 2018-2019 session.
---
President: John Sullivan
Vice President: Tom Claridge
Secretary: Jack Hegarty
Treasurer: Joe Dzwilefsky
---
The Men's Club is on Summer break for now but has several planned activities for the Summer. Join us again on Thursday, September 6th for our next meeting. All men of the parish are welcome!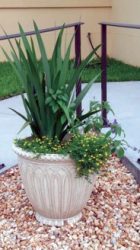 Have You Noticed the Beautiful Planters as You Enter the Church?
They were donated by the Men's Club as part of their effort to enhance the beauty of the entrance to our church. The Men's Club purchased the two flower planters and arranged for a landscaper to install the pots and watering system and plant the arrangements. Each arrangement consists of Apostle Iris, Gold Dust and Mystic Spires Salvia flowers. Many Thanks to the Men's Club for this beautiful addition to our entranceway!
For there is one God and one mediator between God and mankind, the man Christ Jesus.
The men in the Men's Activities Ministry take on most of the behind the scenes operations of the parish. Until our Church is built, we will use the Parish Hall for our Masses and  all our events. Here, the men are busy setting up for Religious Education classes and after that is over, they will reset everything for Mass the following morning. There is A LOT of unseen activity that goes into the support of all that SFA offers.
New officers for Knights of Columbus fiscal year 2018-2019:
---
Grand Knight – Roger Dexter
Deputy Grand Knight – Vince Tuzeo
Financial Secretary – Ken Stoffa
Chancellor – Francis Linden
Recorder – Robert Gerth
Treasurer – William Beaumont
Advocate – Jack Deacon
Warden – Ronald Jetko
Other Officers and Trustees – Brent Dickerson, Dennis MacDonell, James Morgan, John Haag, Kenneth Dalton, Peter Albi
Chaplain Fr Jose Kallukalam
---
Thank you to these Catholic gentlemen for their service.
---
Other notes:
In fiscal year 2017-2018 the Knights "food for the poor basket" at St. Michael and St Francis Churches delivered over 4000 lbs (2 tons) of canned and dry goods to food kitchens in Nassau County.
Thanks to all who contributed especially those who repeatedly help this program. Join us the first Thursday of each month for Eucharistic Adoration at St. Michael's from 9AM to 1PM.
MEN'S CLUB SOCIAL DINNER
A dinner social for the Men's Club at the Four Seasons Bistro on Wednesday, December 13th was enjoyed by all.
A special Thank You to all members of the congregation who volunteered their time to support the St. Francis parishioners filled 40 time slots for 80 hours of volunteer time during the month of December. The efforts of all volunteers resulted in collection of $57,463.77 to help the needy of Nassau County.