Religious Education
Children and Adults
For more information on Religious Education for children, Contact Dawn Welliver at:
For more information on RCIA and Adult Education and  for locations where it is being offered, Contact:
Angie Eggleston at:   RCIA @stfrancisyulee.org
Children:
Religious Education at St Francis of Assisi Catholic Mission Church is provided for registered families with children in grades 1-8. These Faith Formation classes are designed to supplement and support the role of parents as the primary educators of their children. As a growing mission church, we are unique in our ability to provide this support for our families. Our small classes afford the children not only the opportunity to participate fully in their faith formation, but also extensive personal attention from our team of highly dedicated catechists.
RELIGIOUS EDUCATION REGISTRATION FOR  2018-2019
---
The deadline for registering your child for the 2018-2019 Religious Education program is June 15.  Registration forms are available on the St. Francis website or in the church office.  Please note that if you do not register by June22nd, you will be responsible for the purchasing and ordering of your own textbooks.
St. Michael Academy Scholarship
---
If you are a registered parishioner of St. Francis of Assisi and will have a child enrolled in St. Michael Academy for the 2018-2019 school year, we may have tuition assistance available. If you are interested in this assistance, you must submit an email request to the church office. The deadline to request this tuition assistance is Friday, August 3, 2018. Please email Maureen in the church office bookkeeper@stfrancisyulee.org. Include your family's name, child's name and grade he/she will attend in the fall. You will be notified once the final decision has been made. There is a limited number of students we can assist.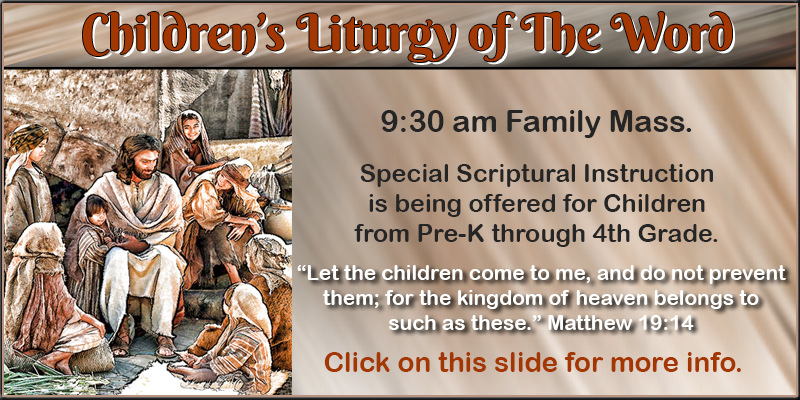 RCIA  (Adult Education) Angie Eggleston
The Rite of Christian Initiation of Adults (RCIA) is a process developed by the Catholic Church for prospective converts to Catholicism who are above the age of infant baptism. Candidates are gradually introduced to aspects of Catholic beliefs and practices. There is the inquiry stage, where we are just finding out about Jesus, Christianity, and the Catholic Church. In the catechumenate, the faith has begun to develop. We are learning and growing more. There is a focus on catechesis where we are learning about the faith, how to live as a Christian, and developing the interior life. The period of purification and enlightenment is the final stage before receiving the Easter sacraments of initiation into the Church: baptism, confirmation, and Eucharist. (Those already baptized with a valid baptism in another Christian church aren't baptized again.)
---
This stage of intense reflection calls us to a deeper conversion in preparation for the renewal at Easter. This is what the season of Lent is for, but it has a special intensity for those attending as they enter the Church and receiving the sacraments of initiation. The final stage of mystagogy during Easter is for continued reflection on the sacraments received at Easter, especially the Eucharist. Specific catechesis on the Mass, the Sacraments, and especially the Eucharist are the focus of this stage. The Mass and the Eucharist are the "source and summit" of the Christian life in the Catholic Church, and this period is designed to help to understand, appreciate, and live more deeply this center of Catholicism.
Our amazing group of Religious Education teachers.
Today was a special day! Our children that are preparing for the Sacrament of First Communion have chosen Prayer Partners for spiritual support during their preparation. Today during the Family Mass, these willing members of our community were offered bread by the children as a reminder to pray for them. Please feel free to join us in praying for these young people as well!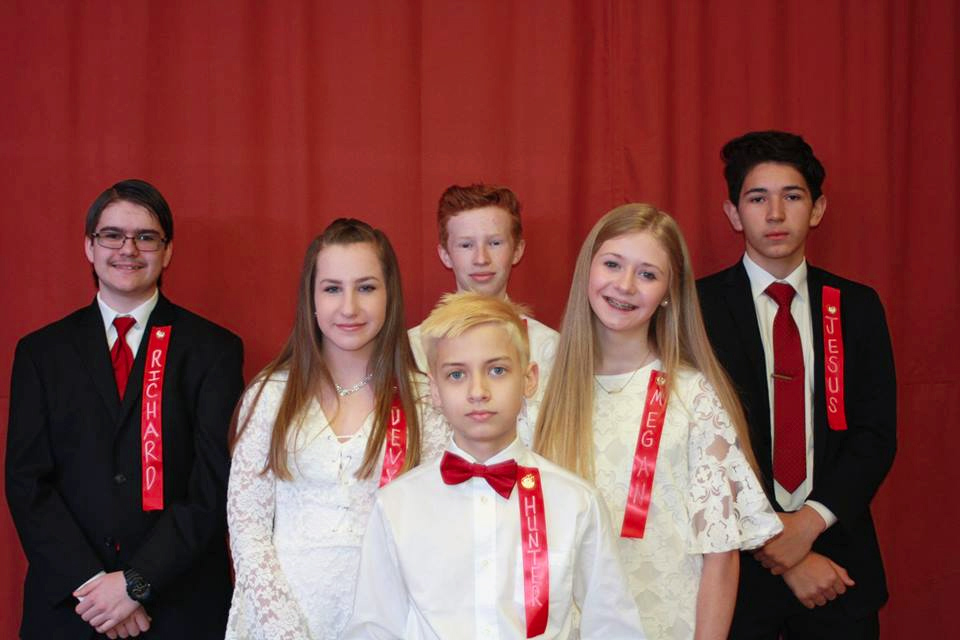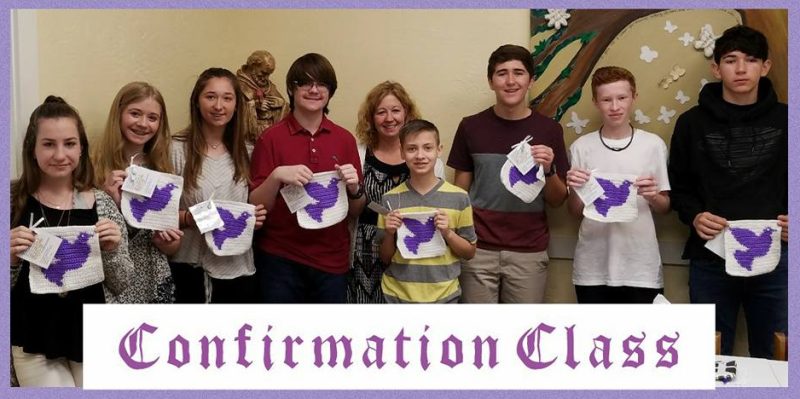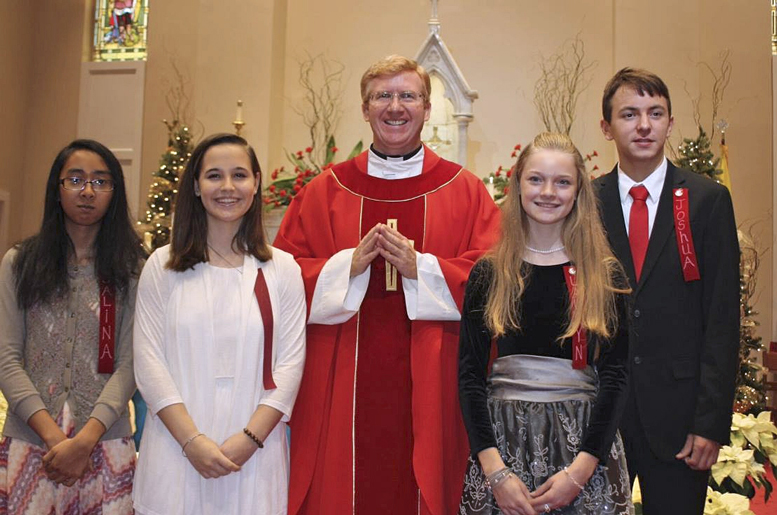 Blessed is the one who perseveres under trial because, having stood the test, that person will receive the crown of life that the Lord has promised to those who love him.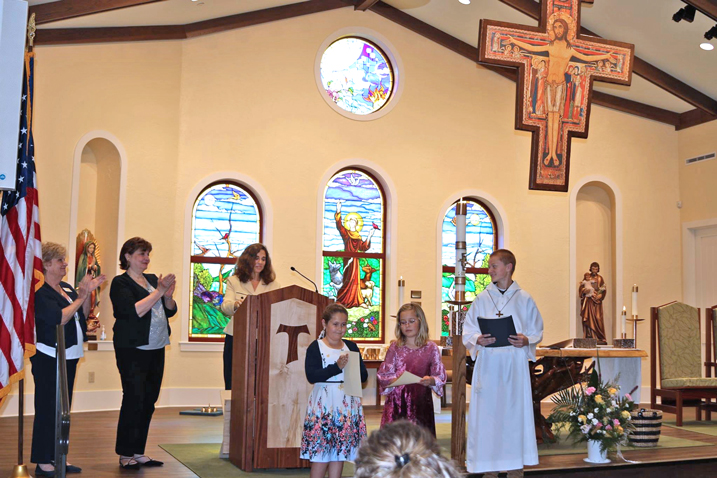 The Respect Life Contest provides an opportunity for teachers and students to discuss the need to respect human life in all forms and for elementary and middle school students to use art and essays to demonstrate the value of all human life. The coordinators of our Respect Life Ministry provided the judging for the submissions from our Parish Religious Education Program and presented the winners their certificates at the 9:30 Family Mass this past Sunday, 04/22/2018). Our program had 100% participation! The Overall Winner was chosen for his real-life based essay that accurately conveyed the "Be Not Afraid" theme. Way to go St. Francis Religious Ed students!!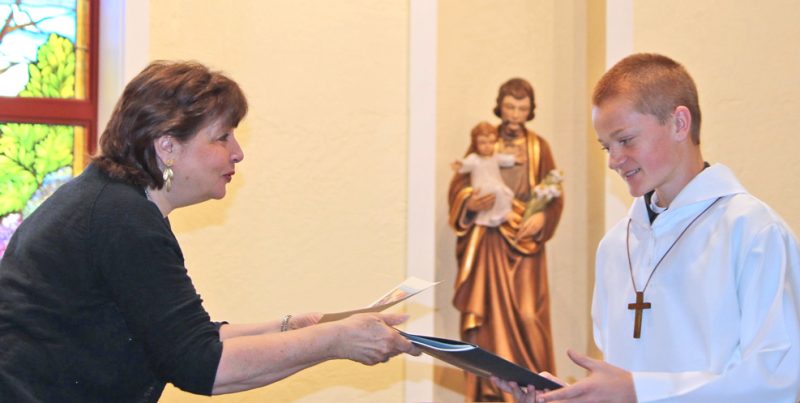 Here is a copy of the beautiful essay for the Respect Life Contest written by James. He was the overall winner of the contest as his real-life based essay accurately conveyed the 'Be Not Afraid" theme.
Be Not Afraid
Five years ago, I had a personal experience of not being afraid. My dad picked me up from school one day after he and my mom had gone to the doctor for an ultrasound of my soon-to be sibling. "Your mom and I found out if the baby is a boy or a girl." Dad said. "Do you think it is a boy or a girl?"
"Girl." I said.
"Nope, it is a boy!" Dad replied.
I was so excited that I was going to have a baby brother. What I did not know, is that my brother would have some challenges.
The doctors diagnosed my brother with Dandy-Walker Malformation, a cyst that was taking the place of brain matter that controlled coordination and speaking. A specialist recommended that my parents terminate the baby. Aborting one of God's creations was not an option for my parents. They were very sad and worried. So many people prayed to God to take care of this baby; my parents, friends at church, and even a group of nuns at a convent in Wisconsin. My dad had a dream that God was saying my brother would be alright. He dreamed that Jesus' hands were lovingly holding my brother's head and told him not to be afraid.
My family started to come up with names for my brother. Finally, my parents chose the name David, because he would have some "Goliaths" to face. When my brother was born, we could tell that he was strong. He was already pushing himself up a little, but he still needed some physical therapy. David and my parents conquered every "Goliath" thrown their direction. We were learning to not be afraid, but to trust God.
My family started attending a special needs support group called Planting Hope. The group gave my parents support and helped increase their faith, even in hard times. There was a daycare for all of the children while parents were talking to other parents. I learned how to interact with special needs children. It was a great experience. Now I am not afraid to talk to people that may be different than me.
By the time David was two-years-old, he had already proved the doctors wrong. My family is glad that they did not terminate the pregnancy. David has been a miracle. With God's help, we have learned how to not be afraid.
ST. FRANCIS CCD STUDENTS FOR SOLDIERS
PREP STUDENTS CHRISTMAS PARTY
PREP Class  students had their Christmas/Advent  party on Dec. 13th 2017. The kids colored tree ornaments, learned about the symbolism of the candy cane, played advent bingo and had lots of yummy treats. It was a fun night. Fr. Rafal  joined us, helped with the Advent Bingo Game, and blessed the rosaries that some of the children had previously made during class.