Family, Youth & Altar Servers
The children serve as ushers and lectors, while the Children's Choir provides music at Sunday's Family Mass.
Altar Servers – Serving The Lord
WHITE ELEPHANT CHRISTMAS POTLUCK 2017
The Family Ministry had their Christmas Party potluck on Sunday the 17th. We had lots of yummy food, played a fun game, had a white elephant gift exchange and enjoyed each others company. MORE PHOTOS
POTLUCK & PUMPKIN FUN 2017
The Family Follow Me Pumpkin Potluck was held on October 29 and was all about pumpkin fun, Christian based costumes, and a Potluck Dinner.  MORE PHOTOS
This past weekend the Family Ministry hosted the 2nd Annual Family Camp Out.  We had 9 families participate which included 15 kids and 10 adults.  Friday night  BBQ'ed hot dogs and hamburgers. For  Saturday we had eggs and bacon/sausage for breakfast, and subs for lunch. We played games, rode in the go-cart, fished, climbed trees, roasted marshmallows by the fire and thoroughly enjoyed our time together. MORE PHOTOS
FAMILY RETREAT ORLANDO
The Family Follow Me Ministry went on a field trip this weekend to Orlando. Saturday we went to Medieval Times for a fun dinner show, after the show we had fun at the hotel pool, then Sunday morning we all went to church at the Basilica of the National Shrine of Mary, Queen of the Universe. There were five families, 15 children and 10 adults. We had so much fun and definitely plan to do another field trip in the future!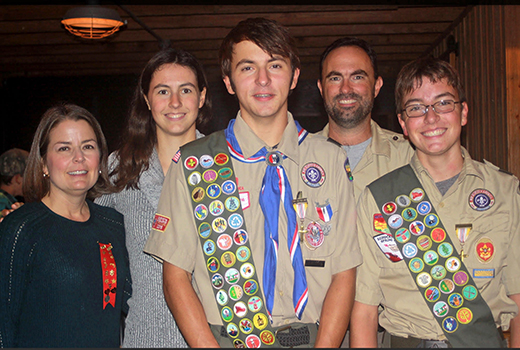 Josh Herbert, Eagle Scout
---
Josh earned his Eagle Scout award in October and had his ceremony in Novemeber, 2017. His project was building shelves and racks to hang historical costumes for the Amelia Island Museum of History. He also earned the Ad Altare Dei Catholic medal, won first place the Sons of the American Revolution Eagle Scout contest for the Jacksonville District, as well third place for the state of Florida. He currently is an Ocean Rescue life guard, is homeschooled, and will participate in dual-enrolled classes at FSCJ in the fall.